Tips on Naming Your Twins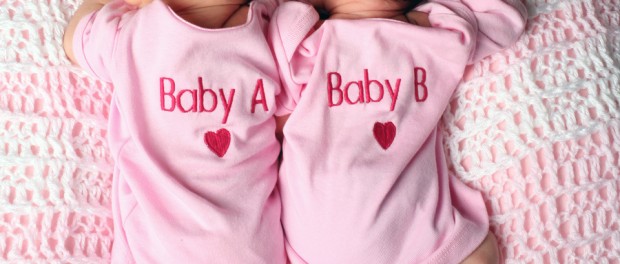 Choosing a baby name can be difficult, because it is something that will follow your baby all through life. However, naming twins can prove to be even more difficult. There are many things that you have to consider, as you do not want to choose names that are too similar. Let's face it, your twin babies will have a lot in common, so giving them similar names could be damaging later in life.
You want them to be individuals, therefore it's best to try to come up with names that will make them feel that way. Many parents get the urge to rhyme their twins names, such as Teddy and Freddy. Others play off the meaning of their names, such as Charity and Hope. You may even see some use the same name in a similar way, such as Nicholas and Nicole.
Using the same initials is a highly popular way to name twins, as well as other siblings. Often times a whole family will bear the same first initial. This works well because there similarities, but also enough differences. You could go with Garrett and Grace, or Sussie and Seth.
Here are some tips to help you name your bundles of joy.
Matching – although it is very tempting to give twins matching names, you need to let them be independent in some ways. These types of names will have the same initials, or number of syllables. Examples: Ann and Andy, Jason and Mason, Ella and Emma, Jayda and Jayden.
Theme – If you are going to name one baby a traditional name such as Margaret, you will want to give the other a traditional name as well. You never want to give different style of names to them. Faith and Hope tend to be a popular choice in this category.
Necessity – you want to name your babies something that is going to be easy to use on a daily basis. When trying to call on two babies at once it could get pretty tricky if they have long names. Either select short names or go with names that have great nicknames that you can utilize.
Similarity – you want your twins names to have a same level of similarity. So if one of your babies has a unique way of spelling their names, then you should do the same with the other or vise versa.
Flow – they are twins, so you want to ensure that their names flow well together. Since you will be saying the names together, you want them to be easy to pronounce.
Boy-Girl Names – If you decide to go with unisex names it could get very confusing for people when trying to keep them straight. Names in this category include Taylor and Tyler, or Landon and London.
Assigning Names – Of course, if you are having a boy and a girl it will be easy to assign them names. However, if you are having same sex twins you will need to decide which twin will get what name. Some parents choose to wait to see their babies before naming them. Others will decide that the first born will get a name, and the second born will get the other.
Here are some popular Twin Names to Consider:
Girl Twins:
Isabella and Sophi
Faith and Hope
Olivia and Sophia
Ella and Emma
Hailey and Hannah
Ava and Emma
Heaven and Nevaeh
Madison and Morgan
Mackenzie and Madison
Ava and Olivia
Boy Twin Names:
Jacob and Joshua
Matthew and Michael
Daniel and David
Jayden and Jordan
Jayden and Jalen
Elijah and Isaiah
Isaac and Isaiah
Ethan and Evan
Logan and Lucas
Logan and Luke
GIRL-BOY Twin Names:
Madison and Mason
Taylor and Tyler
Addison and Aiden
Emily and Ethan
Emma and Evan
Jayda and Jayden
Jada and Jaden
Aidan and Nadia
Ava and Aiden
Natalie and Nathan
Want to avoid stretch marks?  Check out our article on the best stretch mark cream.