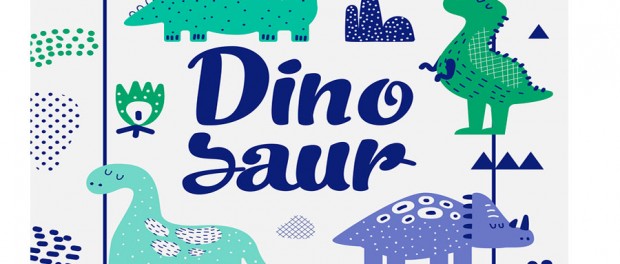 Your Perfect Dinosaur Nursery
To achieve a bright, colorful nursery that will last throughout the toddler years, a dinosaur themed nursery is an excellent option.  There are a lot of really neat ideas that you can do for this one such as framing your baby's footprints and calling the artwork "Babysaurus," a dinosaur growth chart, bedding, furniture and more.
Now you don't need to have everything to be dinosaur themed in order to create a beautiful nursery. In fact, you can even use solid color fabrics for the bedding and just accessorize. I highly recommend accessorizing with items that have a second purpose to save money.
Decorate with dinosaur toys and books:
A great way to tie a theme together is through the use of toys and books in your theme. You can display them in a basket, on a dresser, nightstand or even in a cubical organizer. The toys and books are decor for baby but will get used in the near future by the soon-to-be-toddler.
Use Dinosaur Keepsakes to decorate:
Nursery decor can be expensive and add up quickly. However, decor is a fantastic way to make keepsakes that you will cherish. For example, buy a My First Year Picture Frame and dress your baby in a dinosaur onesie every month to make a dinosaur themed collage of your baby. Another classic way to turn decor into keepsakes is to add your baby's name to their dinosaur blanket.
Don't forget Big Brother or Big Sister
As a way of helping older kids with the new arrival get a dinosaur toy for the kids to play with when in the baby's room.  All kids love dinosaurs and there are so many cute items to choose from like this fun dinosaur on wheels set from 3 Bees & Me available from our store or at Amazon.)  🙂
Think long term:
Whichever nursery design you decide on, think long term. Toys and books can add a really nice splash of color to a nursery and will still be fun and useful when that nursery turns into your child's bedroom.