Portable Changing Pad Diaper Clutch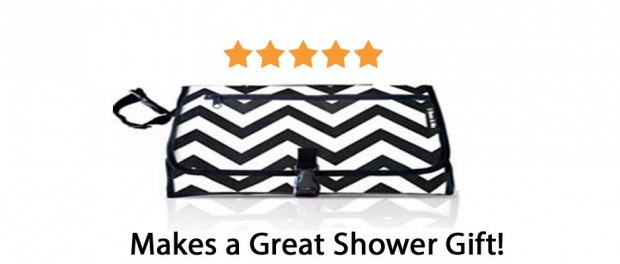 Looking for a great portable changing pad that is stylish and compact? This useful diaper clutch holds diapers, wipes and more as it keeps your baby free of dirty surfaces!
Now available at Amazon!  Click here to see.
This portable diaper pad is perfect for parents on the go! It protects your baby from germs and grime when changing. It's lightweight and compact yet holds everything you need. Looking for a great baby gift that's stylish and useful? This is it!
Convenient
Grab and go! It easily snaps to the stroller or your wrist. Contains a section for diapers, wipes, money, and keys. You CAN leave the house without a bulky diaper bag!
Safe
Protect your baby from germs! Our portable diaper changing pad is easy to clean and keeps a safe surface between your baby and a restroom's dirty changing table.
Stylish
The special black and white chevron pattern is great for both boys and girls! It is waterproof, durable and works for all ages and sizes. Space for diapers, wipes and more!
What Customers Say
"This is much more convenient than a diaper bag for short trips like to the mall or to a restaurant for dinner. Easy to store, easy to use, and definitely perfect for road trips when you're just too scared to risk that rest-stop bathroom. I always take it whenever I go somewhere for just a few hours or less." – Chris Embry

"Great changing station. It's really easy to carry and good for when you don't want to carry your regular bulky diaper bag. Makes diaper changes quick. I always keep mine in the car. Easy clean-up too!" – Stephanie Hinojosa

"This is a great gift for any new mother. Plenty of pockets for all the items needed." – kmass