9 Important Things to Know When Choosing Clothes for Your Baby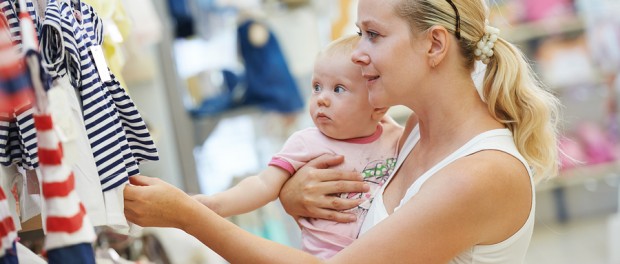 Shopping is a very simple and pleasurable activity. Buying baby clothes can be done almost anywhere, anytime these days and just as easily as buying groceries. You can have so much fun just shopping for baby clothes and online shopping has made this even more effortless. These days you don't even have to go out anymore – with just a click of your mouse, you can become gloriously involved in a thrilling world of amazing fashion trends and styles for your baby.
Whatever look you're hoping to achieve on your baby from a casual look, to a more dressed up look, anything you want can be achieved. With an easy mix of colors and blend of styles, you can have your child looking like a fashion icon without spending a lot of money.
Here are great guidelines to keep in mind when deciding on the best clothes for your baby:
List out all the essential things you need to buy before you begin to shop online so as not to get easily distracted at the sight of all the attractive and alluring styles.
You should also make up your mind on the amount you're willing to spend prior to when you start shopping. This will also help you not be distracted.
It is imperative to always keep in mind that babies grow quickly. Bear this in mind when you shop for your child and purchase bigger sizes if possible. Also, remember that some fabrics shrink, particularly denim, as all these will allow your child use the clothes for longer periods.
Always make use of bargains and sales, even when the item is too large, go for it because it will be advantageous for you when your baby grows into it.
It is equally crucial to be realistic and practical when shopping for your baby. Your baby has to wear diapers, so it is essential to buy clothes that will allow you change diapers easily.
When shopping for sleepwear, go for snug cotton and clothes that are flame retardant as these are the types of sleepwear that provide better options for safety against fire or any such related accidents.
Beware of "buttons and bows" because babies are playful and restless, they will tug and yank at the strings, buttons and tassels and when it comes off, it goes into their mouths. Remember to be safety conscious when buying your baby clothes.
Keeping your child's feet covered is also important, buy one-piece suits for your baby and when they begin to walk, you should cover their feet with non-slip soles.
It is a good practice to wash new clothes before they are put on, as it will enable them be softer and guarantee cleanliness.
With all this information at your fingertips, shopping for your baby will be nothing but delightful, and you can now show off your child with an impeccable fashion sense to the admiration of others.