Cool Ideas for Baby Shower Centerpieces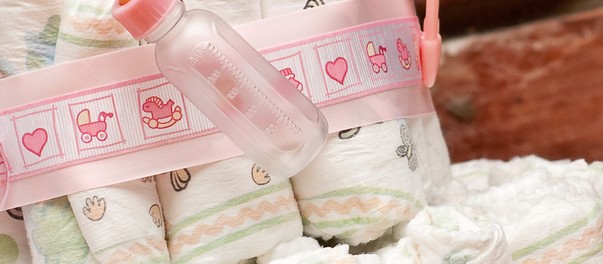 With so many baby shower centerpiece ideas which you may try, it can easily leave you confused on what to pick and display during the special day. Traditionally, flowers are used as centerpieces. They can be put and arranged in a basket or various crystal vases.
If you are still looking for ideas on what to use as your centerpiece, then this article is for you. Today, we will be listing some cool ideas which may help you decide and prepare what centerpiece to use.
Theme
First of all, you need to think about the theme of your baby shower party. This is important before choosing what centerpiece to use. One cool idea is to blend in some personal items in your arrangement. This will give it a personal feel. The color of choice is also important. If you have a color theme, then follow it.
Type of Flower
It is also important to choose the right kinds of flowers. The arrangement will set the mood of the party so you need to pick something that can emanate the happy and sweet mood of the occasion.
Add a Personal Touch
When it comes to adding a personal touch, you may want to try adding cute bears, bunnies and other baby novelties in the centerpiece. If you want, you can also try to add some baby clothes.
Unleash Creativity
If you want to unleash you creative side, you can personally prepare for you centerpiece. Most of the time the price can be expensive especially if the design is grand. If you do it personally, you will surely save more money.
Edible Centerpieces
Aside from the usual flowers and baby novelties, you can also try using edible items such as small cakes. There are so many cake shops that can do this for you. If you do not want something edible, you can also try doing a diaper cake, which is, as the name implies, is a cake made of diapers.
Add Color and Life
To add to life to the occasion, you can also add balloons all around the room. Aside from balloons, you can also put colorful bows and cuddly toys around.
On a budget? No problem!

If you are on a tight budget, you can always use a beautiful potted plant as a centerpiece. If you have one in your backyard, the better, so you will not have to buy one anymore. Around the plant, you can add baby items to add to the design.
You can also try using fishbowls with floating candles or flower petals to spice up the design of your table.
These are some of the tips you may try when choosing your centerpiece. You do not have to spend too much. Always remember that with a little creativity, you will surely have the beautiful, fun and memorable baby shower party that you really want.